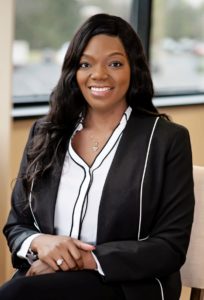 Louisville Real Estate Professional Broker Crissie Huntley is devoted to serving the real estate needs of buyers and sellers throughout the greater Louisville area. Her ability to pay close attention to detail and putting her clients needs first has been the key to her successful real estate career. Crissie is renowned among colleagues and clients alike for her core values: Commitment, Respect and Integrity.
After graduating from Sacred Heart Academy, she attended University Of Louisville to study Business Management. She started her real estate professional career with RE/MAX where she gained most of her knowledge and skill. Now with over seven years of real estate experience, Crissie obtained her Brokers license in 2019. She then went on to open her own brokerage in late summer of 2020. She is known for her perseverance with every client to get their goals accomplished.  When working with her, you can count on her to work hard on your behalf in a professional manner.
Crissie has been mentioned in Louisville Business First's top 20 real estate agents to know in 2016. Crissie has obtained several certifications in her career. She is a Certified VA agent, Pricing Strategy Analysis (PSA), e-PRO®, At Home With Diversity (AHWD), Commitment to excellence (C2EX), Movesafe and Commitment to Professional Excellence (CPE). Recently, she has received her Accredited Buyers Representative (ABR) designation. She offers her buyers and sellers the highest level of client service and business integrity.
She is a member of The Institute for Luxury Home Marketing, National Association of Real Estate Brokers, and a notary public. She was a member of Your Professionals Network (YPN) and Professional standards committee. She is also a Zillow Premier Agent, member of the National Association of Realtors, REBAC and the Greater Louisville Association of Realtors.
Crissie is ready to show you the listings that match your requirements the most, while being mindful to your taste and needs. You can rely on Crissie to help you realize the full potential of your real estate investment while maintaining your privacy in the strictest fashion. She believes everyone, no matter the amount, deserves a place to call home. It is a place that will become a home, create memories, relax, and will be their own! Putting families in homes and not just people in places is her motto.
Crissie went on to open her Real Estate Brokerage Huntley & Co  Realty which is an independent brokerage servicing buyers and sellers in the greater Louisville area and surrounding counties. Our main focus is assisting and educating clients in the home buying and selling process. We love educating first time homebuyers and have them go from inquiring to acquiring a home to build memories in. It is even more rewarding when those same buyers come back and become home sellers and upgrade to a nicer newer home or downsize to a cozier setting. We wanted to create a process and experience that would be unforgettable and  be more fun and less stressful. We treat our clients like family because they become a part of ours.  We know this is a very delicate process and when issues arise, they are never handed to the clients as such. The issues are handled or on the way to being handled by the time clients are notified. We want our clients to be comfortable with us enough to be honest with their concerns and feel free to voice their opinions as they would to a friend or family member. From our family to yours, lets go hunting for a home you can be proud of!